10 Mar

Member Case Study: One News Page

Speed is of the essence for One News Page, which prides itself on the split-second download times for its video-heavy news links.

The British website, which syndicates and aggregates stories from media outlets around the world, proudly bills itself as "probably the fastest access news portal in the world".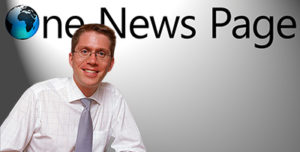 Dr Marc Pinter-Krainer, CEO of One News Page
Reliability and seamless access are key to its business model – boasts that were enabled by a shift to cloud computing in 2015.
Dr Marc Pinter-Krainer, a serial technology entrepreneur, founded One News Page in 2008 with several stipulations in mind: he wanted a low overhead operation, with minimal staffing, that aggregates news far more intelligently than the likes of Google News or Huffington Post.
"I wanted a business run by computers that provides a fully aggregated news website – linking back to original articles, for people to use as a discovery mechanism for interesting content," said Dr Pinter-Krainer.
Initially, he ran the site off three physical servers located in the United States and Germany. However, this was not a happy experience.
"The servers needed maintenance and looking after," recalls Dr Pinter-Krainer. "From time to time, I'd get a text message in the middle of the night saying there was a hardware failure – in fact, that happened 40 times over the course of six years."
Each time the servers went down, he would need to liaise with his hosting service, raise a ticket and wait while staff physically attended to the server and swapped out malfunctioning kit.
"The process would take 12 to 15 hours during which my site would be up and running but it would always be a bit nail-biting," said Dr Pinter-Krainer.
While to any ordinary user, the site would appear unaffected, he knew that a second simultaneous failure could be disastrous: "Another failure could have been catastrophic, leading to data loss, and the prospect of rebuilding the site from backups.
After multiple night-time awakenings, he lost patience with this process and decided to look into alternative options. Cloud hosting immediately leapt out as an efficient, cost-effective and up-to-date solution.
"Moving onto the cloud has been a huge benefit," said Dr Pinter-Krainer. "Quite a bit of work had to be done at first – the architecture of how One News Page was built had to be updated. But since we did it, I've had not issues at all. I've only seen benefits."
In addition to an end to server breakdowns, the shift has helped One News Page to deal with spikes in traffic. Although hosted in the UK, much of the portal's traffic comes from the US – which means that when the eastern seaboard wakes up, demand begins to surge.
On a busy news day, that can mean frenetic user activity in a short period. And shifting to the cloud has meant that One News Page is more robust to deal with demand.
"There isn't as much of a bandwidth limitation," said Dr Pinter-Krainer.
From the start, he was keen that One News Page's distinguishing features should include ease of use and variety – it contains 100 million searchable news resources, with a further 50,000 added daily. Many are heavy on graphics, pictures and video.
As a portal, rather than a destination site, he recognised that quick navigation is crucial: casual users can get bored or frustrated if forced to wait for more than a few seconds. So a click needs to lead to a story fast.
"One of the keys to One News Page is that we've worked very hard to optimise the download speed of a page, whatever your location in the world," said Dr Pinter-Krainer. "We've got the fastest access in the world – faster than Google News."
That speed was made possible by investment – and that came about, in part, thanks to the shift to cloud computing.
The entrepreneur says: "The reduction in cost, for us, through switching from dedicated servers to cloud servers has been substantial. Cost has gone down by 50 percent. That 50% we've reinvested in a content delivery network solution that makes One News Page as fast as it is. We were only able to implement it through the savings we made through shifting to the cloud."
Backing up material is easier and smoother – a backup, he says, takes "minutes" rather than the "hours" of waiting using One News Page's predecessor servers.
One News Page's mission is to target those who are keen to keep up regularly with global current affairs. It is able to boast to advertisers that its audience is predominantly affluent, and users are generally highly educated.
In addition to its global English edition, One News Page has expanded to provide localised versions for the US, the UK, Australia, India and Germany. It also has a Spanish-language international edition.
Dr Pinter-Krainer has no regrets about switching to the cloud. Indeed, he suggests that all businesses should look closely at the benefits: "If you've got any type of computing requirement, one should always consider whether to go into the cloud. It's cost effective, scalable and possibly more secure than running your business off servers in an office."