07 Mar

ECA's Kim Gagné: "Companies need to be well-equipped against IP risks as they pursue their digital transformation"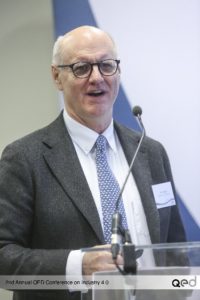 On 31st January, the European Cloud Alliance's Executive Director, Kim Gagné, took part in a debate in Brussels organised by QED on Industry 4.0. Along with speakers from the European Commission, BusinessEurope and SAS, Kim Gagné highlighted the huge shift that the "4th industrial revolution", fuelled by data and powered by the cloud, represents. He explained that while risks related to data protection and cybersecurity are usually well understood, there is still a need to raise more awareness on risks related to intellectual property (IP).
Industrial companies increasingly base their innovations on software, providing more value and new services to customers, often relying on cloud services for doing so. In fact, the amount of data stored and processed in the public cloud is expected to grow exponentially across sectors. For instance, some of the latest cars currently on the road already generate up to 100 GB per hour!
Cloud services are therefore of crucial business interest for companies willing to process this data efficiently and safely. Importantly, they can also offer companies a better protection against IP risks, as the needs of digitizing companies in protecting their innovations and patents evolve. Some solutions on the market can help bridge that gap between companies that are "IP-poor" in the field of software, and companies that are "IP-rich" and can offer access to their patent portfolio for defensive purposes.  
This can be part of a sensible strategy on managing IP risks, along with other steps such as patent portfolio development, subscribing to insurances or joining patent pooling communities. Ultimately, the aim is for companies to ensure legal certainty and innovate safely in the cloud!
Want to know more about Kim's speech and the event? See his slides here, his keynote and a summary of the event – and feel free to contact us!