24 Apr

"Cloud-based technologies can empower and protect start-ups in their growth" – Kim Gagné at the Digital Transformation Conference, Belgium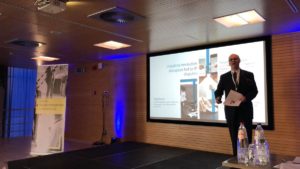 18 April, Mechelen, Belgium – Last week, Kim Gagné, the European Cloud Alliance Executive Director, participated in the Digital Transformation Conference, held in Mechelen, Belgium. The conference, which takes place every year, gives the opportunity to business experts to present the latest solutions, cases and technologies to a crowd mainly composed of Belgian marketers, managers and business developers. This year, the panels were categorized in four different tracks: business innovation, customer innovation, technology innovation and sustainable innovation.
As part of the technology innovation track, Kim Gagné gave a presentation on "How can companies protect intellectual property in the cloud?".  His speech was tailored to a business crowd not necessarily aware of IP risks associated with digital transformation. Kim therefore gave an overview of how to build a resilient IP strategy using the cloud. He also touched upon the new challenges brought about by the 4th industrial (digital) revolution and how to sustain innovation using cloud technologies to counter IP risks.